Projector Screens

Sparkvfx Production a division of CP NEXUS TECHNOLOGIES SYSTEM. Provide all type of projector screens. Projector screen usually required when setting up a home theatre or during presentation on screen in various companies.


While buying a new projector, people simply focus on the projector and don't give much emphasis on the type of screen they require, which sometimes result in unpleasant viewing experience. A projector is especially designed to maximize the image quality, sharpness and contrast by reflecting most of the projected light back to the viewers.

If you are looking to buy projector screen in Delhi, Gurgaon, Noida, you should do bit of research to make the best deal. You should either search for the direct manufacturer of Projector screen or direct distributor of
projector screen, so that you can buy projector screen at much cheaper
rates than the showroom prices. You can also do research online to get an idea of price range of the projector screen.


There are multiple types of projector screens in the market these days, as per the needs and requirements of the customers. One should buy the projector screen as per his requirements depends upon the specifications of projector screen, size of the screen, as well as cost of the projector. It is therefore very important to do the research before buying projector screen that will give you best value for your money.


Some of the famous types of projector screens are Manual projector screen, electric projector screen, portable projector screens, Rear projector screens, and fixed projector screens.


Type of Screens
1) Tripod Projector Screen
2) Motorized Projector Screen
3) Insta Lock Projector Screen
4) Map type Projector Screen
5) Fixed Projector Screen



Size Available:
1) 4x6 Feet Projector Screen
2) 5x7 Feet Projector Screen
3) 6x8 Feet Projector Screen
4) 8x10 Feet Projector Screen
5) 9x12 Feet Projector Screen
Tripod Screen


Tripod Projector Screens
A tripod screen is a projector screen that stands on its own through support of a tripod understructure where Screen goes from down to upwards & hook is fixed on the upper portion of the stand which has three legs. The screen is especially useful in situations where a person may need to make multiple presentations in various locations and not have any screen available.
The screen is made from a matte white, high-resolution material that produces distortion-free images. This adjustable projector screen retracts smoothly and provides a properly tensioned viewing surface.

One of the most common uses for a tripod screen is for business presentations. In many cases, businesspeople may be giving presentations in a board room that already has a tripod screen.

In many cases tripod screens can be purchased in a number of different sizes, depending on your specific requirements. The projector screen, in most cases, will be square. However, it can be made the dimensions of a widescreen simply by not opening the screen as much vertically.

Advantages of Our Tripod screen:-
- The particular auto locking system keeps the screen smooth,
- Imported high-quality fabric offers clear and vivid image,
- 4:3 format with all round 30-60mm black border,
- 1:1 format with 30-40mm black side border,
- The alloy tripod is stable, nice and convenient to move,
- Perfectly symmetrical tripod for great stability,
- Suit for various places such as flow business affairs, shows, schools and mini type convention etc,
- Strong shock resistant and ends.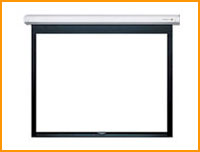 Insta Lock Projector Screens
Insta lock Screens are preferred in any kind of Offices, be it individual's or corporate and Home Theatres where there is not continuous or rough usage.

Being more sophisticated than WARSA screens, these screens have AUTOMATIC roller locking mechanism which locks the screen at regular intervals and thereby eliminate the need for hooking the screen handle after pulling it down.

Closing pattern of the screen is also very convenient, a slight tug unlocks the mechanism and the screen can be guided back into the casing.


Advantages of Instant Screen:-
- It Can Easily Attach On Any Type Of Base Wall And Roof,
- It Is Easy To Hang On Wall With Only Two Kneel,
- Easy pull-down mechanism with lock at intervals,
- Dual Wall and Ceiling mounting options,
- There Is No Need For Bottom Kneel.
Motorized Screen


Motorized Projector Screens
Motorized type usually is Ideal for professionally crafted presentations and better for multi-purpose home theater where need to rise or down the screen frequently. Our screens operated with a remote or switch, are using high quality motors which assure the screen up and down freely and durable flat for long time using. The user no need to operate the screen manually which decreases risk of "pull-and-release"-damages on the screen.
Used in various company corporate boardrooms, conferences, school & college classrooms, institutes, auditorium, meetings and even at home theatre, these motorized screens are available at cost effective rates.
Octagonal sheet case, graceful design


- US fabric matte white
- Advanced tubular motor, Somfy, jolly & A-OK motor optional.


Advantages of our Motorized Screen:-

- Easy to install and clean,
- Available in superior imported viewing surfaces which are best suited for Front projection,
- Designed for controlled and uniform rolling of screen fabric,
- Quiet operation of the motor,
- Can be lowered or raised using a switch,
- Robust square or hexagonal case in powder coated metal casing.

Map Type Screen


Map Type Projector Screens
MMR (Map Manual Rollback Screen) is a Map type screen. The most basic model having viewing surface with two steel tubes on either side and a handle for suspension on any hook or stand. This screen has to be manually handled. It comes with a plastic cover for storage. This is preferred mainly by AV Hirers for the portability and light weigh and also by those who are seeking a low cost and basic solution.

Advantages of our Map Type Screen:-
- It Can Easily Attach On Any Type Of Base Wall And Roof,
- It Is Easy To Hang On Wall With Only Two Kneel,
- It Can Easily Pulled Up And Pull Down,
- There Is No Need For Bottom Kneel.